OEM of American and Ohio locomotive cranes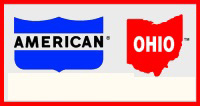 IPS CRANES, Inc., is the OEM of American and Ohio Locomotive Cranes. We manufacture new cranes and rebuild and repair existing cranes. IPS CRANES is a complete supplier of American Hoist crane parts and American crane parts, and genuine OEM parts for American and Ohio Locomotive cranes. 
IPS CRANES offers a complete line of support services including field inspection, field repair, shop repair, complete crane rebuilding retrofitted with today's technology, new cranes, unit exchange cranes, full crane rental fleet, operator and mechanic training and 24-hour technical support. We are fully staffed with engineers who are available to assist you in planning your project.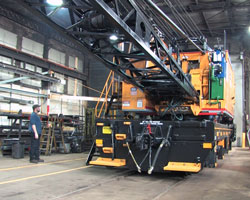 Our Duluth, Minnesota plant is a complete repair/rebuild/manufacture facility for all types of track equipment. We maintain a full service shop with staff expertise in welding, fabrication, hydraulics, pneumatics, electrical and mechanical assembly. 
Our main building is outfitted with the latest tooling and fabrication equipment, a high-capacity overhead crane, oversize service doors and ceiling height. We are near US Interstate 35 and have direct track connection to class 1 railroads. 
We can accommodate your most challenging project with the efficiency, quality and economy mandated by today's competitive business climate.
IPS CRANES Featured on Episode of "World's Greatest!" TV Show
St. Paul, Minn.— IPS CRANES, a St. Paul-based custom crane manufacturer, was featured on the national television show "World's Greatest!" for providing a legacy of innovation and industry leadership in the crane industry.